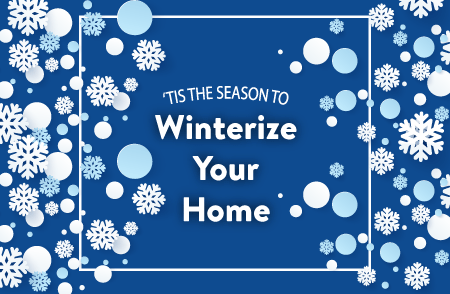 As with any home improvement work, you should check with your specific home manufacturer or licensed home installer as each can provide different recommendations for winterizing your home.
TOP 5 TIPS
Be sure all home skirting is in place and secure to reduce wind exposure
Confirm your heat tape/wand is installed, plugged in and properly operating
Ensure water risers are properly insulated
During cold snaps, open sink cabinets to allow home heat to circulate around pipes
Only drip faucets during very low temperatures
EXTRA TIPS
INSULATE ROOF
Use metal shields or high-temperature caulk to close any gaps in the ceiling.
DRAIN HOSE SPIGOT/BIBB
Run your outdoor hose spigot dry and cover it to provide insulation. You may want to use heat tape.
INSULATE WINDOWS
Applying window film is an easy, inexpensive way to save money in both the winter and summer.
LOOSEN TIE-DOWNS
Frozen ground can shift and tie-downs leave no room for the home to move, which can cause structural damage. Contact your home manufacturer or licensed home installer for more information.
LOOK FOR GAPS
Seal off any gaps or leaks with caulk or weather stripping. Areas to watch include:
Entry places for plumbing
Electrical outlets
Windows and doors
Corners where the walls meet the floor or roof
Seams or wall strips
CLEAN GUTTERS
Clean your gutters to avoid them becoming burdened with trapped water, snow, or ice.
INSPECT THE FURNACE
Replace or clean filters and exhaust vent, clear debris from the vent pipe, keep the roof exhaust vent clear of excess snow build-up.