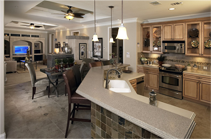 First, purchasing a home provides financial security. Monthly rents tend to increase and decrease with home values in the local area; however, your monthly payment with a fixed-rate mortgage will never change, regardless of your home value. In addition, there are potential tax advantages to owning your own home. Oftentimes, homeowners are able to deduct their mortgage interest payments, as well as any property tax payments on their annual taxes.
In addition, history shows that over time the value of a home will appreciate. However, even if the home value remains unchanged, the mortgage balance decreases as you pay down the balance owed and thus, equity builds. This increase in equity provides you with more buying power. In fact, now may be the best time in recent history to purchase a new home. With home values at record lows, many home buyers will find that the value of their home will only appreciate over the coming years. Interest rates are also at an all-time low with the benchmark 15-year fixed-rate mortgage at 3.44 percent (bankrate.com). Thus, the cost of home ownership is much more affordable than it was just five years ago.
Another benefit to owning your own home is the ability to personalize it to your tastes. Homeowners are able to enjoy having a yard with flowers or a garden and can customize the interior to their tastes with painted walls, wallpaper, or new flooring. Landlords in a rental dwelling will typically not allow the occupants to make these types of changes.
Finally, purchasing a home enables the home buyer to live in a stand-alone house within a community. Many communities provide access to amenities such as pools, recreation centers and organized activities. In addition to being a part of a community, oftentimes the monthly maintenance fees include lawn maintenance and automatic irrigation, allowing you to enjoy the benefits of a home without the yard maintenance hassles that can sometimes come along with it.
When looking for a home, one option to consider is an age-qualified lifestyle community. Besides offering affordable housing options, these communities enable you to live in a stand-alone home rather than in an apartment complex or condominium. Oftentimes, the communities require that residents are age 55 or over, so residents in these communities have neighbors with similar interests and lifestyles. The communities frequently offer professional on-site management, so the community and grounds are very well taken care of. In addition, residents are able to enjoy resort-style amenities such as pools, golf courses, recreational centers, tennis courts, fitness centers, athletic leagues, planned community events, and more.
If you are interested in purchasing a home in an age-qualified lifestyle community, consider Equity LifeStyle Properties, Inc. (ELS). ELS has been the leader in high quality, affordable lifestyle communities for more than 30 years. ELS operates more than 340 lifestyle communities and RV resorts in prime locations throughout the nation. With a focus on quality in service, amenities and value, an ELS community offers endless benefits, providing its residents with affordable living, exceptional amenities, recreational opportunities, and a welcoming environment. For more information, call 800-274-7314 or visit www.EquityLifestyle.com.